Cut your SEO workload in half with software that
pays back for itself in 30 minutes or less
Dear Fellow SEO Professional,
If you're anything like most optimization experts who make a living handling clients' websites, you are probably faced with these challenges every single day:
How do I generate a long list of laser-targeted keywords to optimize a client's site for, or use in a PPC campaign, and do it in minutes, not hours?


How do I check my client's rankings in a dozen of search engines, for a thousand keywords, without spending weeks rummaging through Google's results pages manually?


How do I impress clients with professional-looking ranking reports that demonstrate the deliverables and keep the customer happy?
If you're asking yourself any of these questions, you've come to the right place. With
Rank Tracker Enterprise
, you'll be able to accomplish all the above in record time, have happier customers, and grow your business faster than ever. Read below about how Rank Tracker can save you money, and pay back for itself in just the first 30 minutes you use it.
Here's just 2 ways Rank Tracker can
both save and make you money
, and why using this software makes a lot of business sense to any SEO pro, whether a freelance optimizer, or an SEO company:
1. Rank Tracker cuts your costs by improving efficiency
How many hours a week do you spend monitoring the clients' search engine positions? How many on keyword research? How many on producing stunning reports that demonstrate the results your clients are paying you for? Wouldn't it
make business sense
to automate these tremendously time-consuming tasks as much as possible?
If you're paying outsources or have in-house employees to manually do any of the above, you're leaving a ton of money on the table. With Rank Tracker Enterprise, you can
cut costs dramatically
by slashing the time spent on these activities by
60% to 90%
, and enabling your staff to accomplish a lot more in less time.
2. Rank Tracker boosts your profits by enabling you to handle more clients
This is the direct result of improved efficiency and better productivity. If you free up the valuable time through automation, you'll be able to

handle more clients

, or

charge

your existing

clients a premium

for faster and better service. Either way, using Rank Tracker for automation

generates

more cash flow

for your business

.
Here're just some of the things Rank Tracker can do for you...
With the above in mind, let's have a brief look at the most common tasks us SEOs have to deal with on a daily basis, and how Rank Tracker helps you accomplish them faster and easier than before:
Task 1: Keyword Research
The first step in optimizing any website is finding the right keywords to optimize it for. As a professional optimizer, you know the "right" keywords must fit at least
3 critical criteria
:
Because the client wants targeted traffic that translates into sales, every keyword must be relevant to the theme of the client's site.


Since optimizing for a keyword no one is searching for is the formula for failure, every keyword must be actually searched by real people a decent number of times per month or day.


Optimizing for hyper-competitive keywords such as "music" is near-impossible for most sites, so every keyword must be feasible to rank well for in a reasonable time-frame.
Discovering and researching the right keywords is a time-consuming task, so having a software tool at your disposal that will help you do this in minutes instead of days is a good idea.
First, Rank Tracker
comes with 16 different keyword research methods
to help you quickly discover profitable keywords you've been missing until now:
Google AdWords Keyword Tool


Competition research (Rank Tracker will harvest keywords from meta tags of your client's competitors)


Keyword Discovery


Wordtracker Keyword Suggestion Tool


Google's Search-based Keyword Tool


Google Suggest


Yahoo! Search Assist


Ask TypeAhead Search Suggestions


Word Mixer (enables you to quickly mix up several base words to come up with dozens of new keyphrases)


Word Combination (helps build combinations from huge lists of words. Saves you hours of work when you need to create multi-word keyphrases)


Misspelled Words (a great way to get more visitors to your site is to optimize it, alongside with your main keywords, for popular misspellings. This suggestion mechanism will help you find misspelled keywords worth optimizing for)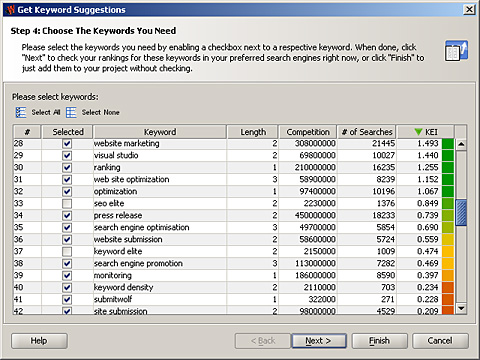 Once you got your keywords, Rank Tracker will help you
pick the right ones
by showing you how competitive these keywords are, and thus how hard it would be to optimize for them. Rank Tracker will do so by calculating the
Keyword Efficiency Index or KEI
for each keyword. KEI is based on the number of searches each keyword gets in Wordtracker, as well as the number of competing sites in Google. Generally, the higher the KEI, the more powerful a keyword this is.
With all these powerful research tools at your fingertips, you'll be able you to
do your keyword research fast
and generate a
huge list of highly targeted keywords
that meet all the important criteria above.
Task 2: Monitoring Your Clients' Rankings In Major Search Engines
Checking where your client's site ranks today, if it moved up the SERPs or slipped for whatever reason is one of the most common tasks any SEO faces. It's also one of the most time-consuming activities if you do it by hand.
With Rank Tracker, you'll be able to monitor an
unlimited number of sites
or specific URLs, for an
unlimited number of keyphrases
, in
international and local search engines
— and do it fast.
Consider the following example: If you check keywords manually, a measly 300 keywords in 3 search engines for a single site is 900 queries. Assuming you need an average of 1 minute to check 1 keyword and make notes in a spreadsheet, this task will
cost you 15 hours
of your, or somebody else's time. With Rank Tracker, this will take around
15 minutes
, which is
60 times faster
. How much is your time worth? If you're paying an outsourcer $10 per hour,
Rank Tracker will pay back for itself within the first 30 minutes
, and after that it's pure profit for you!
Task 3: Client Reporting
Now, we all know clients pay us for the results, that is, better rankings and visibility. And the best way to demonstrate results is with professionally created search engine ranking reports. Have a look at the following sample:
Do you want your rankings report to look like this? We hired a first-class designer to create the graphics and the layout, so that every report Rank Tracker creates would be nothing short of stunning.
And the best thing is, you can customize it all: logo, colors, which report sections and search engines data to include, introductory text, and pretty much everything else! Even if you have an existing report format in place, you can make Rank Tracker reports match this format 100%.
Reports can be exported to Adobe PDF for printing, or to HTML for Web publishing. Rank Tracker can also automatically send the reports via email, or upload them via FTP to your site to be accessible online.
And the built-in task scheduler automates the job 100%!
Now think of yet another thing: Rank Tracker can do all these tasks
totally automatically
on
scheduled time and dates
. You only easily set the schedule once, and then you're free to leave Rank Tracker working totally on its own and not even bother to hit a single button to start a check or send a report. This rank checker will look up all your websites' rankings in the search engines you choose and even deliver reports to your clients.
All these power features are backed up by
enforced security, frequent updates
to stay in line with search engines' algos and
free professional customer support
.
And if you choose to invest in Rank Tracker Enterprise, you're absolutely safe with our unconditional
30-day money-back guarantee
.
Care to try Rank Tracker for yourself? Go ahead, take a 100% free, no-obligation test drive right now, or place a secure order online.
What Our Users Say...
I was blown away by the keyword research feature you've just added!

I was absolutely blown away by the keyword research feature you've just added to RankTracker! I literally spent hours in the first few days using it like crazy and discovering all kinds of keyword combinations I wouldn't have found otherwise. Very cool feature to couple with keyword monitoring
John Marvin
Professional search engine optimizer
---
Much customer friendlier than for example Web CEO!

It is a great product you have! Much customer friendlier than for example the Web CEO which we also use(d). This one crashed when we did +6000 keywords which was a real pain, I really like the fact that if I press stop here it really stops and nothing get lost and I also see which haven't been checked — great stuff!
Martin Heijkenskjold
Search Engine Optimizer and PPC Manager
---
This software is going to put at least one of my employees completely out of work.

This software is going to put at least one of my employees completely out of work.

I can not believe I have never heard of this before! I suspect the reason you're not more popular, is because people do not want to share the secret, and frankly I can't blame them.
Click here for more customer reviews
Convinced? Then
take a test drive right now
(
100% free download
), or
buy securely online
(
only $349
).